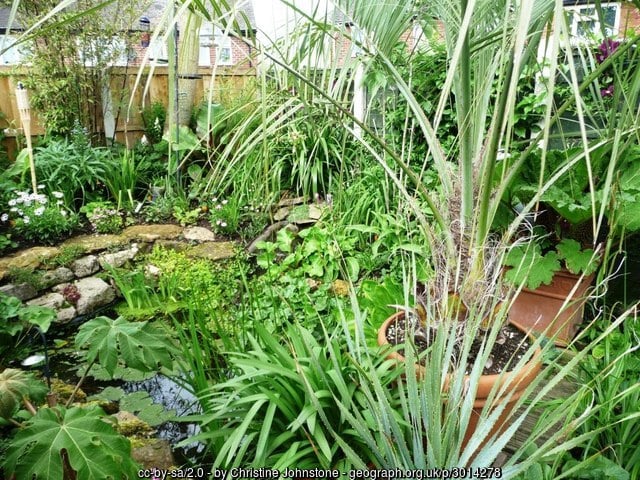 Garden ponds like everything else in life need TLC and a spring clean is a key part of that. It's a perfect job for a sunny day. So fingers crossed for sun where you are this weekend.
Garden ponds: our five step spring clean
If you covered the pond with a net to keep leaves and herons out – take it away, clean and dry it for next winter and add any caught leaves to your garden compost heap.
Clear out dead and decaying bits of plants, leaves and anything else that should not be there. Leave this mix beside the pond for 24 hours so that any pond life caught in it can return to the water. Then add the mix to the garden compost heap.
Use a small net (the sort on sale in summer beach shops) to skim off duckweed. Leave it beside the pond for 24 hours, then add it to the garden compost heap.
Divide overgrown plants EXCEPT waterlilies (a job for May) and water iris (a job for June, after flowering). Just like herbaceous plants, pond plants vary in how fast they grow and when they need to be divided. Plants that grow on the edge can choke a pond if you don't take action, so now's your time for action. When they are overgrown:

lift them out of the water, baskets or pots and all
tip the plants out onto an old bag or the grass and push a sharp spade though the centre to create two plants (do it again for plants that are bursting at the seams)
either find a home for the new plants or, you guessed it, put them on your garden compost heap
refill the basket or pot with pond compost and replant the best part of the plant
add gravel to the top of the compost and sink the pot /basket back into position.

Add new plants. Now is a good time for the plants, but garden centres may not yet have a wide stock (because the plants are just shooting rather than looking fantastic). To add a new plant select a net sided pot or basket that is about 20cm x 20cm (8 inches x 8 inches), fill with pond compost and plant your new acquisition in the centre. Add gravel on the top and lower into position.
What is pond compost and why add gravel?
Pond compost is heavy soil without a trace of fertilizer or weedkiller. Purpose made pond compost is for sale in garden centres that offer pond plants. Adding gravel on the top stops the compost floating out, looks nice and if you have fish stops fish digging into the compost.
You don't have garden ponds or water features?
Well, it's never too late, but a new pond is best started off in the winter when there will be time for it to settle before you add plants. Maybe look for inspiration this summer and plan a winter project to bring it to life? Or start now with a small ready made feature? There are lots to choose from in garden centres and, speaking personally, once you start with water  you find that ponds and water features are a fascinating addition to the garden and a great resource for wildlife.
So, why not start now? 
Enjoyed reading this?
Sign up for our emails below, so we can send you blogs on gardening tips, as well as updates on our sales, so you don't miss out on those garden furniture bargains!