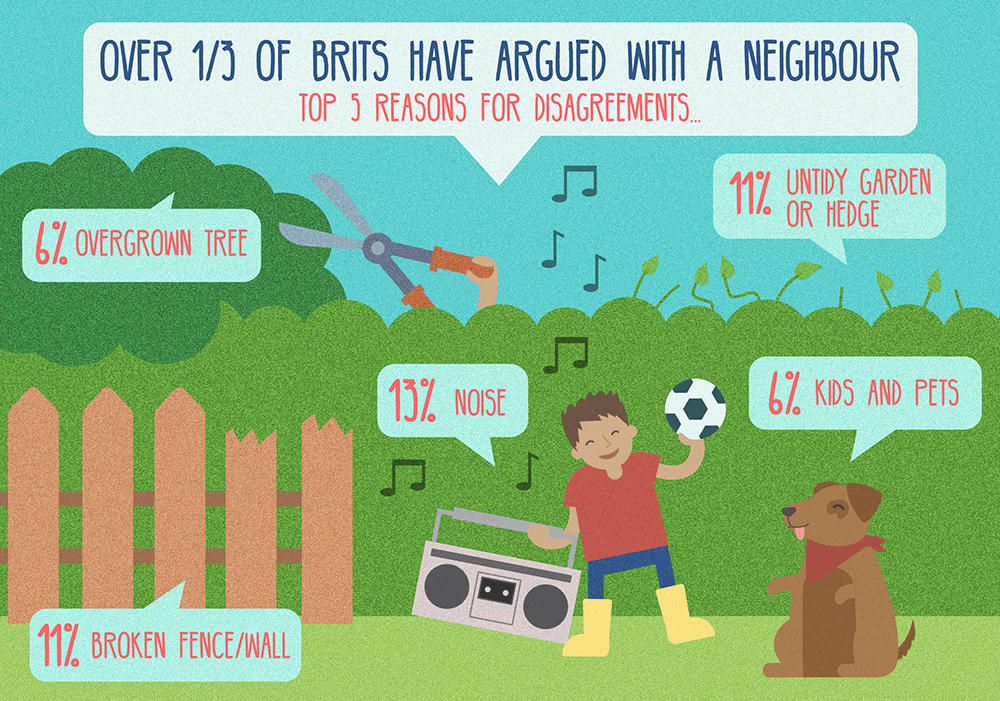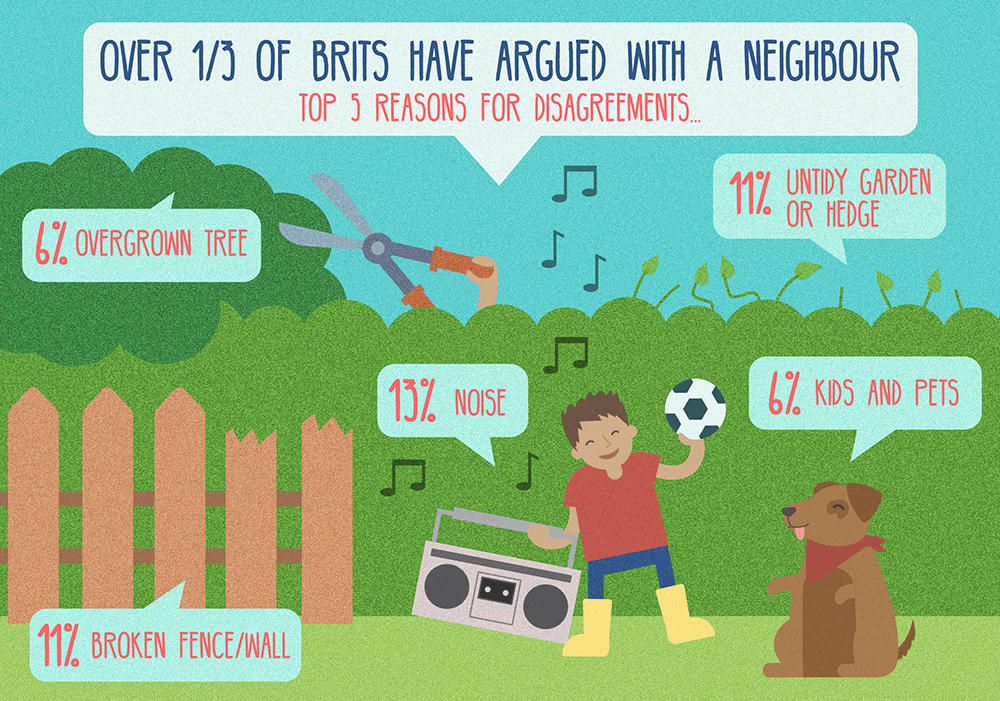 Most of us have had a falling out with next door at some point. Maybe it was over a broken fence, or an annoying pet?
Whatever the cause of your neighbour dispute, it's time to make peace. Two wrongs never make a right, and unless one of you decides to put the house up for sale, you're stuck with each other.
But it doesn't have to be that way. Believe it or not, you may have a lot more in common with yours than a garden wall.
Read our ten top tips for making peace with your neighbour:
1. Be polite, understanding and reasonable
We recently conducted a survey about neighbour disputes. According to our research, 31% of Brits have had a disagreement with their neighbours.
Noise, broken fences, walls and general untidiness topped the list of the UK's biggest gripes, as well as overgrown trees, annoying kids and pets.
Let's be honest, the above would get on anyone's nerves. But if you've to have any chance of overcoming these differences, you've got to be patient and polite.
While it may be tempting to threaten your neighbour with an ASBO warning, it's far more harmonious to just have a civilised chat over the wall.
2. Invite your neighbours over to your next barbecue or garden party
You can go years without saying so much as good morning to your neighbour.
Just knowing your neighbour a little better can help to prevent future fallouts. Why not invite them over for a garden party or barbecue?
Our study found that residents in Bristol are far less likely to have neighbour disputes than those living in the London. Maybe we could all learn something from the Westcountry.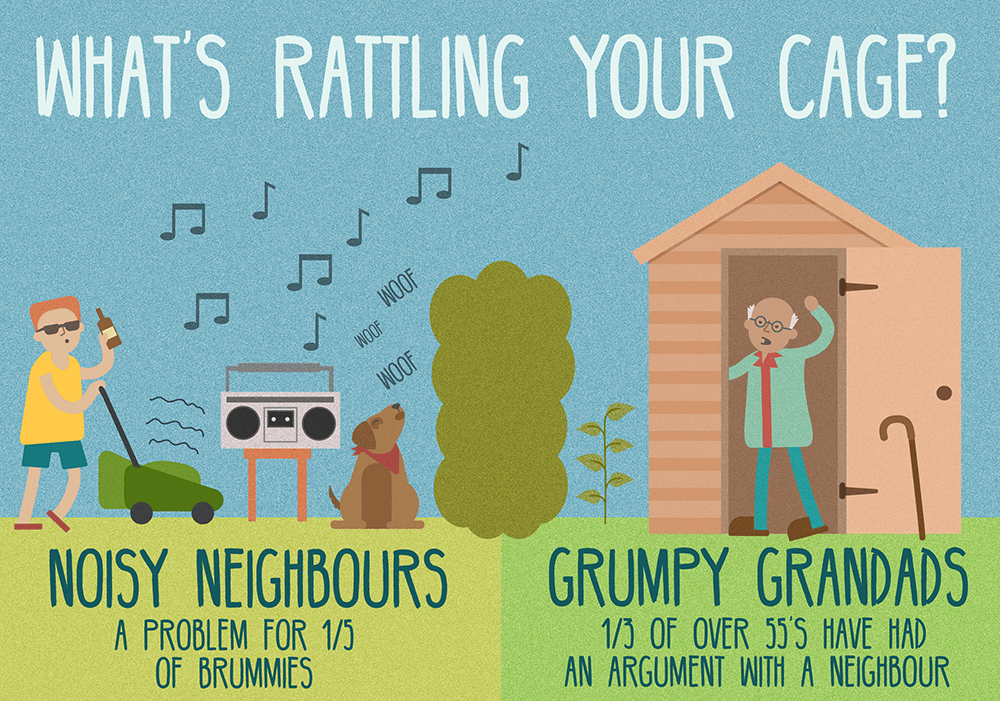 3. Keeping the noise to a minimum
We all like to enjoy ourselves from time to time. And while you may think cranking the volume up to ten in the garden on a summer's night is fair game, your neighbour may not agree.
But don't just assume they're a party pooper; they could be up early for a job interview the next day. If you're planning on throwing a soiree, it's good manners to give a little notice beforehand.
Brummies, this especially applies to you. Our survey revealed Birmingham to be the city with the nosiest neighbours.
4. Are your pets causing havoc?
"We're not saying that Spike the Rottweiler isn't adorable, it's just he sometimes has a habit of jumping over the fence and wrecking our vegetable patch."
Pets have been known to cause their fair share of neighbour disputes. If you get the sense your neighbour is losing their patience with yours, get pro-active and do something about it.
Speak to your neighbour if you feel there may be a problem. You could suggest building a fence to prevent your dog or cat from jumping over their wall.
Cats are much harder to supervise, as they have a mind of their own, but it might be worth supervising your dog to prevent it from breaking into next door's garden.
5. Keep on top of the gardening
Yes it's time consuming, and yes you probably will lose a Saturday in the process, but a tidy garden can do wonders for neighbour relations.
Trim your hedges, weed your patio, pack away your kids' toys and do your best to keep on top of things.
It's not all about keeping up appearances. An overgrown tree is cause for concern because it could damage your neighbour's fence. Ultimately, damaging your relationship.
Two-thirds of the homeowners we spoke to said that there as at least one thing they wish they could change about their garden, why not take inspiration from your neighbour's garden?
Want to find out what the average Brit spends on their barbecue? Check out our guide to the Great British BBQ, you may be surprised by the nation's lack of frugality.
Enjoyed reading this?
Sign up for our emails below, so we can send you blogs on gardening tips, as well as updates on our sales, so you don't miss out on those garden furniture bargains!