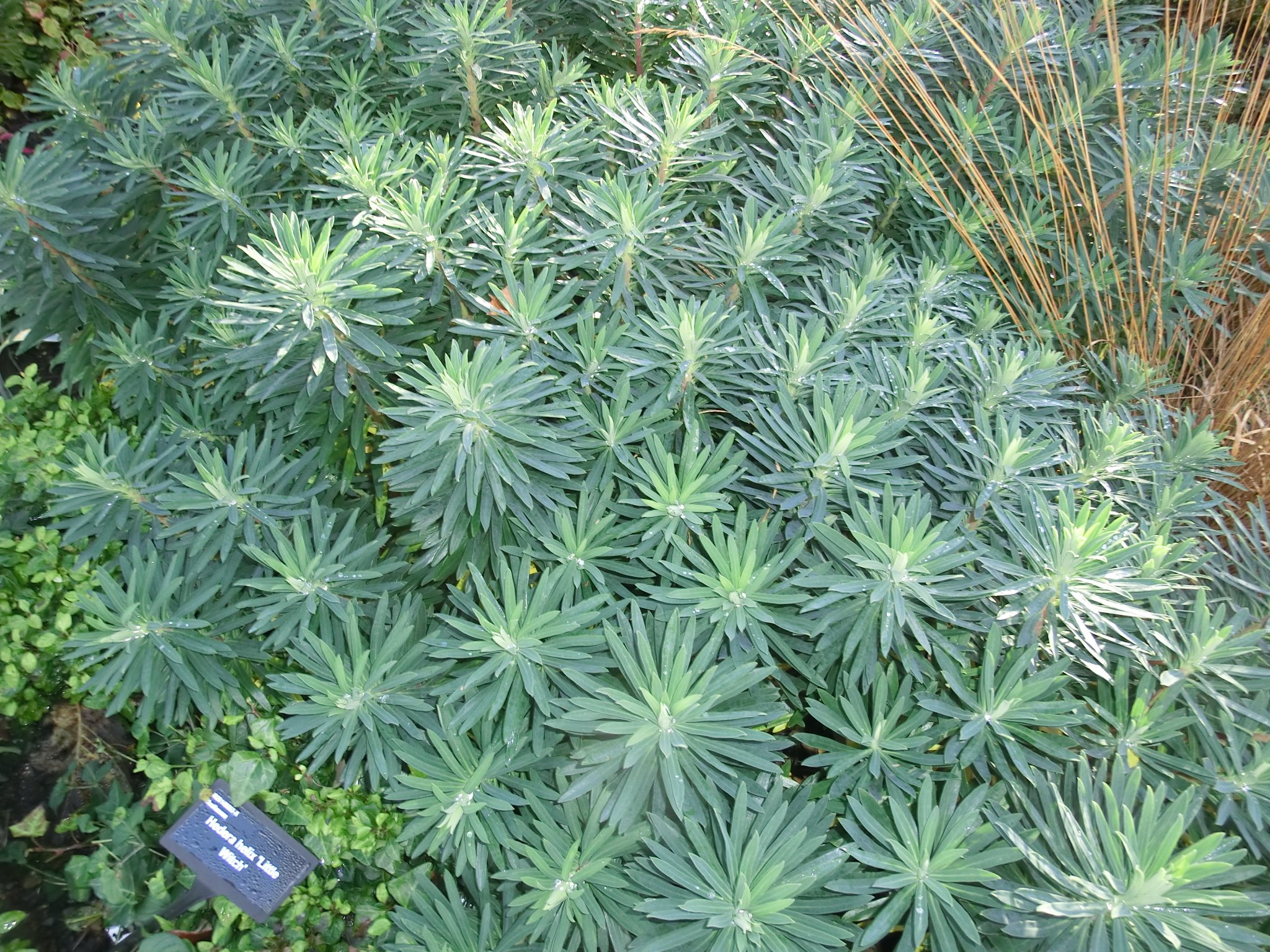 Euphorbia – the spurge family – are hugely varied, and while lovely through the year I am reminded in this wintry week of the structure and interest that evergreen varieties add to any garden space. Leaves vary in colour from pale to deepest green and grey blue. Brilliant yellow to lime green flowers in spring and summer, and the brightly coloured stems of some varieties, make this a family of plants that every garden needs.
Top tips for growing euphorbia
These are, in general, tough, but not many like wet and cold conditions. Many thrive in dry soil. Some like damp ground. Some prefer sun to shade, and others prefer shade to sun. There is a something for everyone so read the labels and match plants to your space. And before you buy, read about them on the RHS website and try one at home to see how it grows.
They look best when growing (some sprawling) as they please. In small spaces, plant supports (read more on this in our recent blog) keep stems where you want them.
Evergreen varieties need very little care: cut dead flower heads down to the ground and tidy the plant now and then.
In autumn cut down to the ground all the stems of deciduous varieties.
In winter cut out the dead stems of biennial varieties, such as Euphorbia characias.
Euphorbia for winter shape and style
Euphorbia myrsinites is low growing, with trailing blue-grey stems of fleshy angular leaves. It is stunning in containers and rockeries. And when the lime green flowers open in spring it is a show stopper.
Euphorbia x martinii  - dark green leaves on tall red stems are magnificent all year but it has to be said that their lime and scarlet blossoms in summer are perhaps even more stunning.
Euphorbia mellifera  can provide a focal point in a sheltered bed, border or patio area. It is an exotic plant in a sheltered spot where, when the sun warms the white ribbed leaves and amber flowers, the scent of honey fills the air. Don't plant this lovely variety in cold, wet areas: it is not likely to survive.
Euphorbia characias sub species 'wulfenii' varieties are the giants of the family (up to 1.5m, 5ft, in the right place) and form statuesque plants. Their blue grey leaves look wonderful with grey plants or paving.  Look out for a host of different cultivars. E. characias 'Lambrook Gold' has gorgeous golden flowers. E. characias 'Black Pearl' is shorter and the dark 'eyes' in its flowers are mesmerising. Shorter again is E. characias 'Portuguese Velvet' and for the smallest of them all try E. characias 'Humpty Dumpty' .
Under shrubs and trees and along fence lines, varieties of euphorbia amygdaloides grow well. The glossy evergreen leaves catch the eye throughout the year while lime green spring flowers lighten shady corners.
And more good news: snails and slugs don't seem to like them! Many varieties spread seeds where they like to grow. You will need to weed them out, or can grow plants to give away or replace those that have died.
Enjoyed reading this?
Sign up for our emails below, so we can send you blogs on gardening tips, as well as updates on our sales, so you don't miss out on those garden furniture bargains!