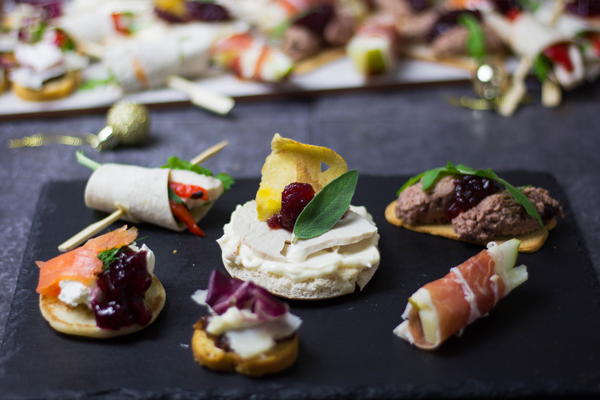 Canapés are the ultimate crowd pleaser at Christmas, no arguing there. But the prep and cook can often be time consuming, when you obviously need your hands free to drink bubbly. We have come up with some simple but stunning recipes that require very little effort on your part, but make it look like you've spent hours in the kitchen.
Not only should each canape be a visual work of art, with uniformity and precision as key, but also be as much about substance as style. A finely formed canape has thought behind it, with the sensation of flavour at its heart and the joy of texture as its soul. The sweet glisten of jelly turns into the hot tang of chilli, or the crisp crack of crostini delivers a tsunami of salt that ebbs away on a welcome tide of champagne.
Consider the effect of form on function, the lifeblood of any good design. Flavour is about balance, and all ingredients vary in intensity. A carefully formed quenelle of soft cheese will create a pillowy bite of satisfaction that tells you it is here to stay. The smoked salmon quietly announces its presence then leaves whilst you still remember it fondly. A tiny frond of dill will whisper gently in your ear. Form and function.
Simplicity reigns. There is no baking or prep involved at all, as each recipe uses entirely deli counter ingredients.
Recipe for your easy Christmas Canapés
Smoked salmon and cream cheese blinis
Well it wouldn't be Christmas without smoked salmon and cream cheese, would it? The sprig of dill is nothing ground breaking, yet add in the sweet sharp earthy tones of beetroot relish and you have a little Eastern European masterpiece on your hands.
For your blinis, you will need:
Smoked salmon
Packet of mini blinis
Cream cheese
Beetroot relish
Fresh dill
Method: The blini is a simple stacking method, create a quenelle of cream cheese on top of the blini and add a strip of smoked salmon, drizzle of relish and a small amount of dill.
Crostini with pecorino cheese and bacon jam
These crostini towers are deliciously salty, definitely complimenting your festive beverage…perhaps a little too well. A crispy, bitesize morsel delivers a savoury smack of cheese that is kept in check by the tiny bitter jewel of radicchio leaf. The bacon jam is magnificent.
For your crostini, you will need:
Packet of crostini
Bacon Jam
Pecorino cheese
Mayonnaise
Radicchio
Method: Again, you can easily make these canapes by stacking each ingredient. Put a small amount of bacon jam on the crostini and a few shavings of the cheese. Add a tiny blob of mayo to stick on the radicchio; the bitter red leaf found in some salad bags.
Fresh pear and manchego wrapped in Iberian ham
Iberian ham, a speciality of Spain, is a match made in heaven with smokey, sheep's milk manchego and a slice of pear. The fresh moist pear contrasts with the deep, cured flavour of the ham and the well-developed cheese.
For your Iberian ham canape, you will need:
Iberian or cured ham
Manchego cheese
Pear
Method: Wrap a slice of pear and a slice of cheese in a half-slice of ham.
Miniature fajita with chilli jelly and rocket
Habanero is the gentler, milder cousin of the famous scotch bonnet, and this habanero jam is sweet, spicy and addictive. Creating a tingly sensation on the tip of the tongue, it adds just the right amount of heat to these mini, and let's face it, downright cute fajitas.
For your mini fajita, you will need:
Packet of ready cooked chicken
Habanero chilli jelly
Rocket
Roasted red peppers
Tortilla wraps
Method: Cut a square strip of fajita, about 1/5 of a whole. Spread with the chilli jelly. Onto the end of the strip, place a small amount of each ingredient and wrap tightly to form a mini fajita.
Melba toast with game pate and redcurrant jelly
The rich, gamey flavour of the pate with edge of the sweet, tangy jelly, atop crunchy melba toast. It couldn't be simpler.
For your pate canape, you will need:
Packet of melba toast
Red currant jelly
Pate
Rocket
Method: Top a slice of melba toast with 2 quenelles of pate. You can see how to form a quenelle in the video of this recipe over on our YouTube channel.
Christmas dinner mini bagel
Would it be a cocktail party without a tiny mouthful of Christmas dinner? This genuinely tastes like Christmas day, the cranberry sauce is temptingly zingy whilst the salty parsnip crisps and aromatic sage keep it the right side of elegant.
For your mini Christmas dinner, you will need:
Ready cooked turkey
Mini bagels
Cranberry sauce
Sage
Parsnip crisps
Sea salt
Mayonnaise
Method: Like the blini and crostini, stack this little beauty nice 'n neat. A generous smear of mayonnaise, then turkey, and then top with cranberry sauce, a parsnip crisp and a sage leaf. Finish with a sprinkle of cracked sea salt to ramp up the flavour.
Delicate, savoury and always aesthetically pleasing, these canapes are the perfect accompaniment to a glass of fizz, beer or red wine. Leaving you to do what you were born to do. Party.
Enjoyed reading this?
Sign up for our emails below, so we can send you blogs on gardening tips, as well as updates on our sales, so you don't miss out on those garden furniture bargains!