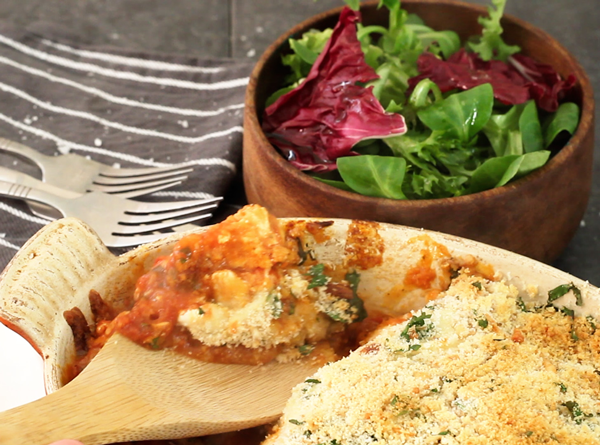 As November shudders into December and brings with it many moments of festive mayhem, we want to eat something comforting at the end of a long day. I have yet to meet the person who dislikes Chicken Parmesan so felt that this may be a dish worthy of your winter blues repertoire. Chicken Parmesan, or more correctly chicken parmigiana, comes in many guises. At one end of the spectrum is an Italian dish much like this one but layered with aubergines and courgettes too. In the middle lies the Italian restaurant version whereby chicken escalope are baked in the oven with tomato sauce and mozzarella. The parmesan almost always comes in the non-negotiable crumb. Then there is the takeaway version, a huge piece of breaded deep fried chicken smothered in mozzarella. Every one of them a triumph in my book. Largely requiring good quality or homemade coleslaw.
The word for coating food in breadcrumbs is panné. The process can be a major pain, not difficult yet messy and crockery heavy. Instead, I have chosen to put the crumb on top. Yes, you are going to need to make fresh crumb, but that is a 30 second job and doesn't even dirty the processor. The chicken breast would generally be battened out; another step I have chosen to remove. You can omit the butterfly cutting of the chicken but then you miss out on the layers and it may take longer to cook all the way through.
Use a good shop bought tomato based pasta sauce of any variety you choose. I have replaced béchamel sauce with a little crème fraiche to add a creamy caress to the acidic tomato and salty cheese. You could use ready grated or shaved fresh Parmesan. Using a shallow dish helps it to cook quickly.
Recipe for easy chicken Parmesan bake
3 to 4 chicken breasts
75g fresh breadcrumbs
20g Parmesan, grated
1 small bunch fresh parsley, chopped
200g tomato pasta sauce
4 tbsp. crème fraiche
100g grated hard mozzarella
1 tbsp. olive oil
Flaked sea salt
Freshly ground black pepper
Preheat the oven to 180C/Gas 4
Butterfly the chicken breasts open as shown in our YouTube video.
Brown the chicken breast in olive oil, on each side, season, and set aside.
Mix the crumb with the parsley and Parmesan.
Layer the chicken with the sauce and crème fraiche.
Top with mozzarella and then the crumb mixture.
Bake in the oven for about 45 minutes or until the chicken is tender and the topping browned.
Serve with a green salad and maybe a piece or two of garlic bread.
Enjoyed reading this?
Sign up for our emails below, so we can send you blogs on gardening tips, as well as updates on our sales, so you don't miss out on those garden furniture bargains!