We all love to get snuggled up and cosy as those winter nights draw in, curling up on the sofa with the heating on full blast and the family all huddled up together under blankets with steaming mugs of hot chocolate watching the fantastic television that so often appears in the winter.
How many of us miss spending time in the outdoors though? Our gardens are used all the time throughout the summer and our conservatories become our havens, doors wide open letting the summer breeze waft in. But it is possible to create a cosy outdoor winter space without falling victim to the often bitter temperatures that accompany the season.
So many winter events happen outside - Bonfire Night and many of the Christmas events are the first to spring to mind - yet spending time in our own gardens once the season changes seems like such an alien concept to the majority of us, preferring to settle down in front of a raging fire or with our heating turned up to the maximum.
Spending time in the great outdoors needn't be neglected because of the change in seasons though. There are a wide variety of products available that can make your outdoor winter space both comfy and warm. Day beds work for all seasons, providing shelter from the summer sun or even the semi constant winter rain. Some newer day bed models even have a feature to break the bed apart which turns it into a seating area and reveals a hidden table underneath. This is a perfect product for entertaining friends and family whatever the time of year, ensuring constant protection all year round.
With newer models also boasting a valve hood mechanism, which enables an easier and smoother process when lowering or raising the canopy hood, there is no reason for your entertaining to stop - simply manoeuvre the hood as required for the situation. Most retailers also offer outdoor covers to protect the day beds from the elements when it is not in use.
If entertaining outdoors is your thing then you definitely need to ensure your guests and yourself are kept warm. A patio heater comes in very handy for these situations, offering both heat and light for you and your guests. They come in a range of sizes and shapes so it is easy to find one that suits you, your style and your outdoor space well.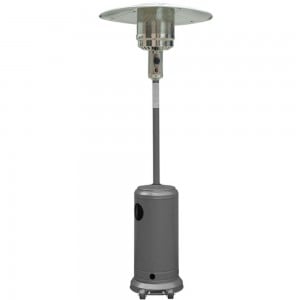 Most models are usually gas powered and have automatic safety shut off devices, anti tilt switches and wheels for easier mobility. This ensures guests are kept safe whilst entertaining and the patio heaters can be moved to a different spot in the outdoor area if necessary.
When spending time outside in the winter, comfort is a major factor. As well as keeping warm and cosy, guests need to feel at home so scatter cushions are an essential. Simply dot a few around the seating area of the day bed and maximum comfort is guaranteed.
Creating an outdoor winter space that is both comfortable, stylish and warm shouldn't be a chore. With a few simple products that can be used all year round, any outdoor area can be easily adapted to suit you. Why not give it a go this year?
by Rebecca from ialwaysbelievedinfutures.com
Enjoyed reading this?
Sign up for our emails below, so we can send you blogs on gardening tips, as well as updates on our sales, so you don't miss out on those garden furniture bargains!