Creating an indoor space outdoors offers the best of both worlds – the comfort associated with interior rooms, with the freshness of the outdoors. Achieving the perfect outdoor room requires a little planning; here are some of the things you should consider:
Location
Where you position your outdoor room largely depends on the layout of your garden, but also on the intended use – do you want to use the space for relaxing and entertaining, or for perhaps an office or studio? For some uses you will need electricity and water, and so a site close to the house might be necessary. Proximity also means you might use the space more.
Protection from the elements
Its all very lovely being outdoors, enjoying the fresh air, until the heavens unexpectedly open, as they do all too often! Make sure your indoor/outdoor space has some overhead protection. Retractable canopies are ideal for this, quickly covering the space when either sun or rain cover is needed, and moveable out of sight at other times.
Furniture
An indoor space outdoors is a transitional one, and its furniture needs to reflect this. Using furniture designed for indoors will look all wrong (plus you need to consider how well this furniture will withstand being outdoors) and similarly, garden furniture is inappropriate in an outdoor 'room'. Rattan furniture is the perfect solution as it is both comfortable and weather resistant. A good Rattan garden day bed with modular elements allows for multiple arrangements and uses, to make the most of your indoor space outdoors.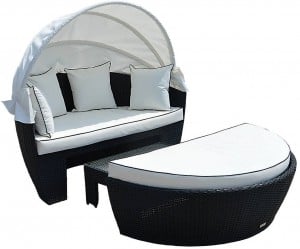 Heating
To prolong the time spent in your outdoor room, a source of heating is desirable. There are many wonderful outdoor heating solutions, including chimineas and fire pits, so you are bound to find one that suits your tastes.
Transition from indoors to outdoors
The transition from indoors to your outdoor room should be seamless, and not provide any shocks in the form of stark contrasts. The incorporation of natural materials is key here, for example the use of rattan for furniture and wood for decking. These both suggest trees and plants and therefore blend easily with those in the garden and beyond. Incorporating plants into your outdoor room scheme is essential for blending the indoors and outdoors – potted shrubs and trees are perfect, or you could even consider a vertical planted or 'living' wall.
These are just a few things to bear in mind when planning an outdoor room. But of course these are just guidelines - creating an outdoor space allows for a certain amount of freedom, and there are no hard and fast rules to be followed. It should be fun, after all. Allow your imagination to dream up the perfect space, and then go for it!
by Molly from mollyandtheprincess.com 
Enjoyed reading this?
Sign up for our emails below, so we can send you blogs on gardening tips, as well as updates on our sales, so you don't miss out on those garden furniture bargains!