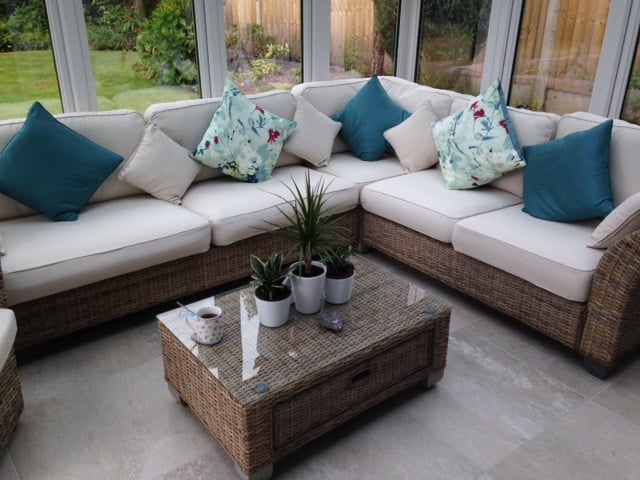 A corner sofa is a comfortable place to sit, that's true, but it also brings people together to talk in a relaxed way. It does this because you're sharing a common space, in the same way as when you sit around a table with other people. A corner sofa is very good for private conversations. It can also prove surprisingly helpful in negotiations too!
It's these special powers that are partly responsible for the corner sofa's increasing popularity in interior design. It's fashionable, it's luxurious and it's very, very useful.
Good for large spaces, good for small spaces
If you're thinking about filling a largish space, a corner sofa or two would certainly make a good contribution. Think how well they work in reception areas all over the world, breaking up space easily and creating safe and cosy corners. Add a potted palm and a small table and you'll find that guests will relax for as long as they like. And so will you.
Corner sofas are also very good value in smaller areas, providing comfortable seating for a number of people without taking up too much space.
Good for families
When you've got a large family, having enough space for everyone to get together is paramount. A corner sofa provides more room than you'd think for talking, playing games, watching television and cuddling up together.
Modular
We've talked before about modular furniture, furniture that's put together from a simple series of geometric shapes. It's straightforward and sleek, and is easy to rearrange for different environments and needs. Most of the corner sofas we sell are modular and so we can custom build one to suit your conservatory perfectly. Sofas are available in different materials including abaca, wicker and kubu.
Have you got a corner sofa yet? If you're at all interested in conversations or fashion, we recommend it!
Enjoyed reading this?
Sign up for our emails below, so we can send you blogs on gardening tips, as well as updates on our sales, so you don't miss out on those garden furniture bargains!