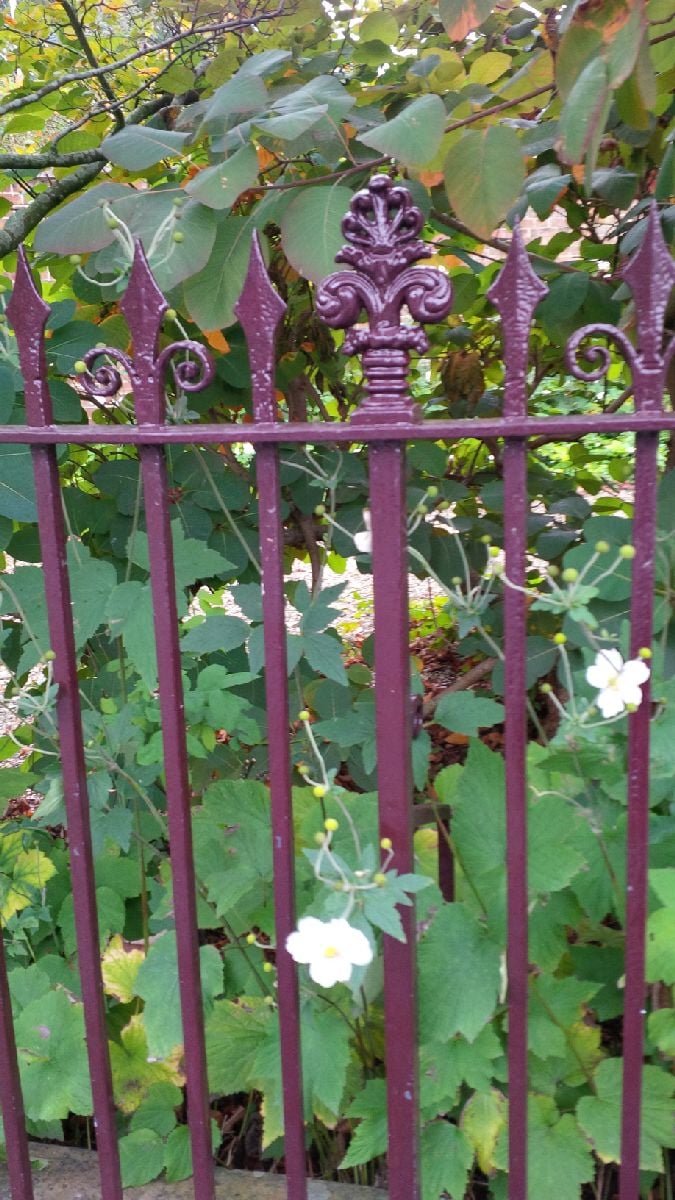 Colour is everywhere
Colour is everywhere in our world and, consciously or unconsciously, we respond to it.
So, a bit of thought about colour in the garden won't go amiss.
The challenge
Have you inherited a dull outdoor space? No problem. Keep your spirits up by adding a little colour, fast. Go straight to your garden centre for a quick fix.
Now, at the end of September, go purple: some Michaelmas daisies, a celosia, and some wonderful heathers. Perhaps some Sedum spectabile. Sorted.
Now you've got time to think about bigger questions of what you can and can't do.
The bigger picture – the stage
Unless you're going in for major work, some colours in your house and garden are fixed: the roof, the brickwork or render, the doors or windows, the wheelie bins.
But other things are open to change.
You can add garden furniture. You can add pots and containers which come in all kinds of shapes and colours.
You can paint or stain the shed, the fence, the decking. Choose one colour to fit in with the rest of the house and it will make everywhere seem bigger.**
** The end of September is getting a bit late to start staining and painting in most parts of the country. Rain showers can make paint run; higher humidity, less warm sunshine and shorter days means it takes longer to dry. But …

… now is the ideal time to create a lookbook for your garden colour plans, in a notebook and/or on Pinterest. Have a look at our Rattan Direct Pinterest board about colour for some ideas.
Flowers and foliage - the actors
Flowers and foliage are the actors in your garden, your patio or your outside space. As well as you, of course! Living things reflect light differently. Their colours are more subtle and nuanced. You have much more scope to express yourself and to  experiment.
What colours do you like?
Choosing colours is such a personal thing. One person's moodily sophisticated plum is another person's unwelcome 70s throwback. Someone's wonderfully chalky and smudgy pastel is another person's wishy-washy dishwater.
Have a look at the simple colour wheel. Colours next to one another on the wheel also look good in real life.
Clashing colours lie opposite one another on the wheel and can look wonderful together. Think how striking blue and orange flowers can look together.
Light and colour
Colours change dramatically, depending on the quality and amount of light.
Bright colours love bright sunshine but pale colours will disappear (as they do, of course, on snowy days).
Pale colours and individual jewel colours pulsate and throb on dull days and at twilight.
Colours look different in the evening.
On wet days, grey changes into silver and pewter, shining and twinkling. Rain does this to the underside of new tips of rosemary.
Colour really is everywhere, in all weathers. Welcome it into your garden.
Enjoyed reading this?
Sign up for our emails below, so we can send you blogs on gardening tips, as well as updates on our sales, so you don't miss out on those garden furniture bargains!