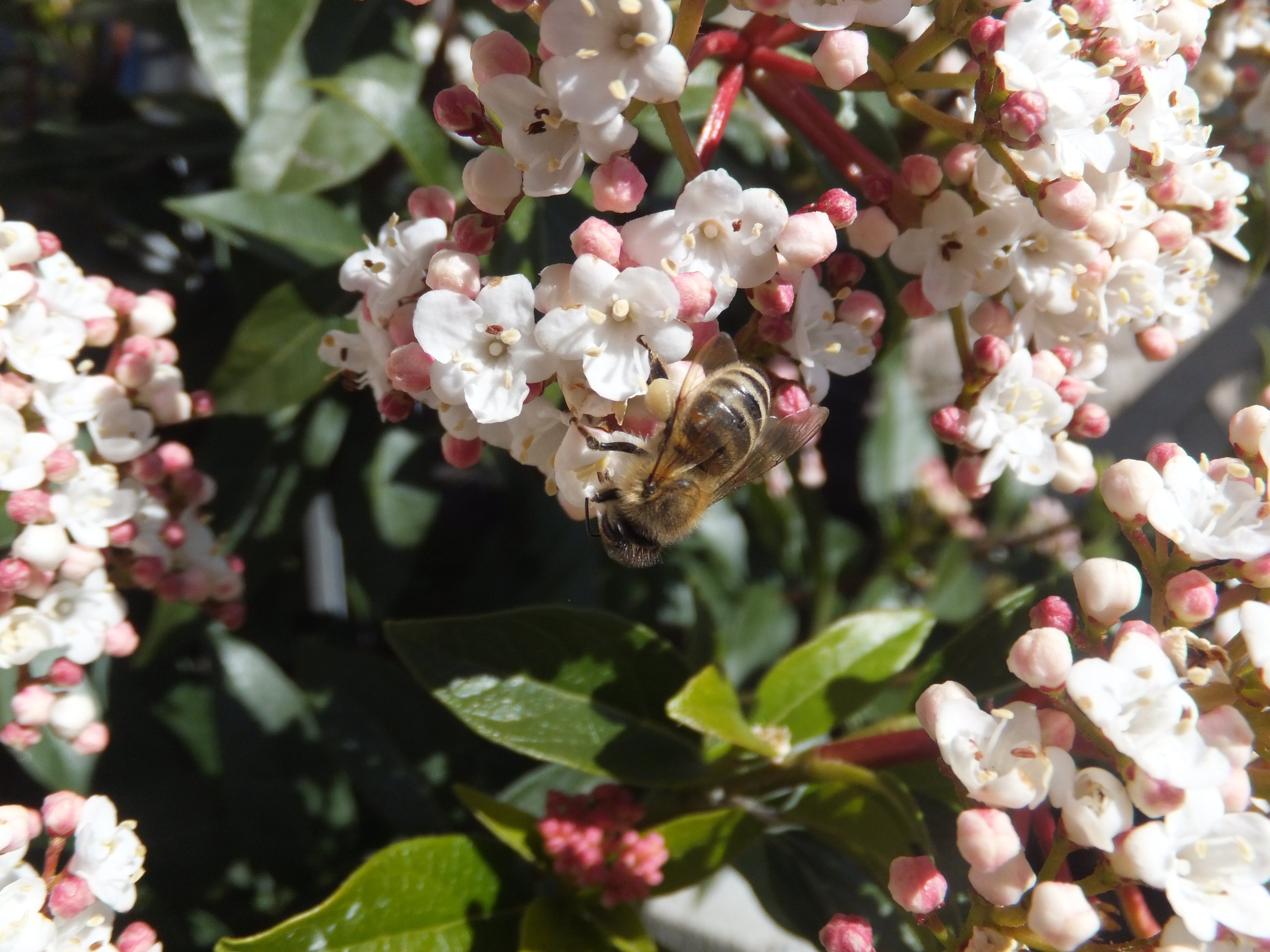 Honey bees have had a bad winter (along with many of us). Their colonies were caught short of food when gardens were under snow. So this year, more than ever, honey bees need you to share your garden space with them.
What about bumblebees?
Bumblebees are tougher than honey bees, but the hard winter will have affected them too. There are 25 species of bumblebee in the UK, of which eight or nine are common. Find out more at the Bumblebee Conservation Trust website.
Why be bee-friendly in your garden space?
Bees and other flying insects (such as hoverflies and bumblebees) visit flowers to collect nectar and pollen. Doing that pollinates the plants visited. That means the plants produces seed, fruit and some veg. No pollination? No seeds, fruits or some veg.
The sound of buzzing adds to any garden space. Sitting still and watching bees move from flower to flower, collecting nectar and gathering pollen is interesting, relaxing and enjoyable.
And it isn't difficult to be bee-friendly in any garden space.
Simple steps that welcome bees into your garden space
Plants that flower early and late in the year are a must. Think snowdrops, crocus, mahonia, viburnums and more.
Many of the summer flowering plants we all love and which we have suggested for calm and easy gardens are loved by bees. Think: Lavender, rosemary, thyme, jasmine...
Because bees use their tongues to reach nectar, some flowers just don't work for them. Simple, open, flowers that have only one round of petals, rather than those with a double (or more) round, are easier for bees to reach the nectar, so choose plants that give you those.
Some fruit and veg. plants are good for bees, and pollination means they are good for us.
Think: apple trees, wigwams of runner beans, containers of courgettes, growbags of tomatoes, a bed of raspberry canes.
Bee friendly garden tips
Provide water 
Bees don't swim (!) so garden ponds are often no use to them. What they like, is to stand firm at the water's edge or on plants growing in the water. They prefer water that is warmed by the sun to cold water. The simplest way to provide a water's edge is to fill a large, shallow garden tray or potting saucer with clean gravel and water and stand it in a sheltered and sunny spot.  Don't worry if weeds grow in your saucer - the bees will stand on them too! But please make sure the water is kept topped up all the time as the insects will come to rely on it.
Don't use pesticides
The use of some pesticides has been associated with the death of colonies of honey bees and the decline of other flying insects. If in doubt, don't use pesticides in your garden.
For more information about bee friendly gardens ...
Enjoyed reading this?
Sign up for our emails below, so we can send you blogs on gardening tips, as well as updates on our sales, so you don't miss out on those garden furniture bargains!