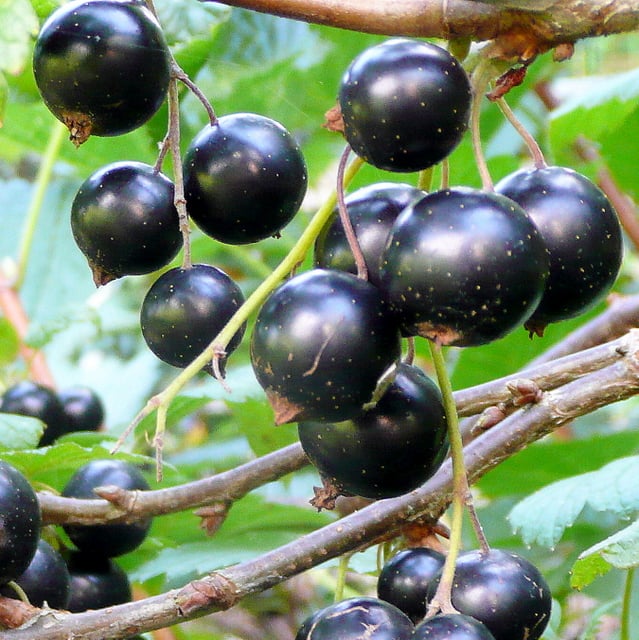 It's turning out to be a great year for blackcurrants. People with bushes have more than enough for their needs, and the needs of their family, friends and neighbours. They have a glut on their hands!
In this blog we'll look at ways of using all this tangy sweetness. (And you can probably adapt these ideas for blackberries later in the season, as they are starting to look very good too.)
Before we turn to ways of eating blackcurrants (yum!) here are a few reasons to grow them.
Blackcurrants are a superfood
They're head and shoulders above many other fruits, providing most of your RDA (recommended daily amount) of most vitamins and minerals.
Blackcurrants are a source of:
important antioxidants like vitamin C (more than three times that of oranges, and much more than blueberries) and anthocyanins (second only to some types of blueberry)
both soluble and insoluble fibre
energy
the essential fatty acids that the body can't make itself (found in the seeds).
Eat them raw
I recommend this – but then I would! I eat them raw most mornings with my muesli and yoghurt. I miss them quite badly when I have a different breakfast.
Bake with them – tarts, crumbles, flapjacks, energy bars
They make an excellent crumble, especially with other soft fruit. They are brilliant as a layer in flapjacks or flapjack-style blackcurrant energy bars.
Make blackcurrant compôte which goes with so many things: granola, yoghurt, vanilla ice cream (blackcurrant ripple, anyone?), meringues. It freezes like a dream.
Blackcurrants are an essential part of traditional summer pudding and can be used alone to make an intensely delicious pudding.
They are also magnificent with almonds. Try Nigel Slater's blackcurrant almond tart. Also try his blackcurrant and poppy seed buns.
Blackcurrants with cream or crème fraîche
Blackcurrants are a wonderful partner for cream and crème fraîche. Try Diana Henry's blackcurrant and crème fraîche tart.
Blackcurrant cheesecake is very good, of course.
Freeze blackcurrants to make a wonderful blackcurrant and cream filling for a scrumptious apple cake when apples are abundant in the autumn. This recipe is for apple cake with blackberry cream but I have it on very good authority (my co-blogger - and she knows!) that this is delicious made with blackcurrants.
Make jam and jelly
Blackcurrant jam isn't difficult as the fruit has the right balance of pectin and acid that helps it set. Try this simple recipe.
For jelly, you'll need a jelly bag for straining out the pips, skin and pulp.
Make cordial and other drinks
Some people swear by Ribena (that's made from blackcurrants, you know) but your own cordial made from your own fruit will be even better. It makes a great kir royale with prosecco, champagne or cava.
Try adding nutmeg, cinnamon and cloves for a spiced winter cordial.
What about blackcurrant gin? You can use the soaked fruit in cakes or with ice cream.
Freeze blackcurrants for any and all of the above
Blackcurrants freeze beautifully. Take off the stalks, wash and dry them and then place on a tray in the freezer. When the fruit is frozen pour them into a labelled bag or box.
Plant a bush!
Standard blackcurrant bushes do take up a lot of space (from 2m/5ft to 2.5m/8ft wide) but compact varieties (1.5m/3ft wide) such as 'Ben Sarek' are available. Blackcurrants are so delicious that I'm thinking seriously about making space in my small garden to plant a bush.
Enjoyed reading this?
Sign up for our emails below, so we can send you blogs on gardening tips, as well as updates on our sales, so you don't miss out on those garden furniture bargains!