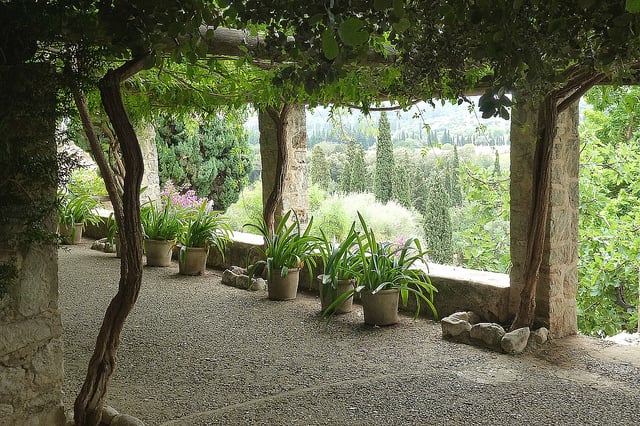 I'll be on the terrace!
Rattan furniture is perfect for a terrace, whether the weather is changeable or settled. Sitting at a table to read the paper in the morning, catching a few rays on a sun lounger, resting on a comfortable sofa with a cup of tea – all are possible with rattan garden furniture. As is relaxing on warm summer evenings with a glass of something cold.
Terrace is such a great word
Did you know it comes from the Latin terra, meaning earth? As well as a terrace of houses, it's used to mean:
a relatively level paved or planted area next to a building
a flat roof or open platform
a colonnaded porch or promenade.
When the weather is changeable
All of these places are great for rattan furniture but the weather is misfiring this summer. I'm longing to get out on the terrace but it's been a case of 'now it's raining, now it's not' in the last few weeks. Now it's hot, now it's downright freezing! And sometimes the wind is blowing very hard. In such changeable weather, what's the best furniture to have?
There's no argument - it has to be low maintenance. It has to be able to stand up to one or more downpours. This is where synthetic rattan really comes into its own, shrugging off water and drying easily when the sun comes out. The aluminium frame, protected with a powder coating, and the high-quality synthetic rattan are fully weatherproof. When bad weather really sets in (and we all know it can, even though we wish it didn't), it's easy to throw the complimentary covers on our furniture and wait it out. (We also stock a range of covers for your other furniture, if necessary.) Cushions can be popped into a storage box.
When the weather is settled
Those long periods of warm, or even hot, settled weather are made for stretching out on a sun lounger or chatting with friends round the dinner table, sheltered under a parasol or the pergola. When you're applying the sun cream, you can be reassured that rattan furniture for outdoors is resistant to ultraviolet light, so it won't become brittle and crack, and colours won't fade.
At the end of the day, your terrace furniture has to work for you. It has to fit in and has to be comfortable. Have a look at our range of outdoor furniture and find something to fit the bill.
Enjoyed reading this?
Sign up for our emails below, so we can send you blogs on gardening tips, as well as updates on our sales, so you don't miss out on those garden furniture bargains!