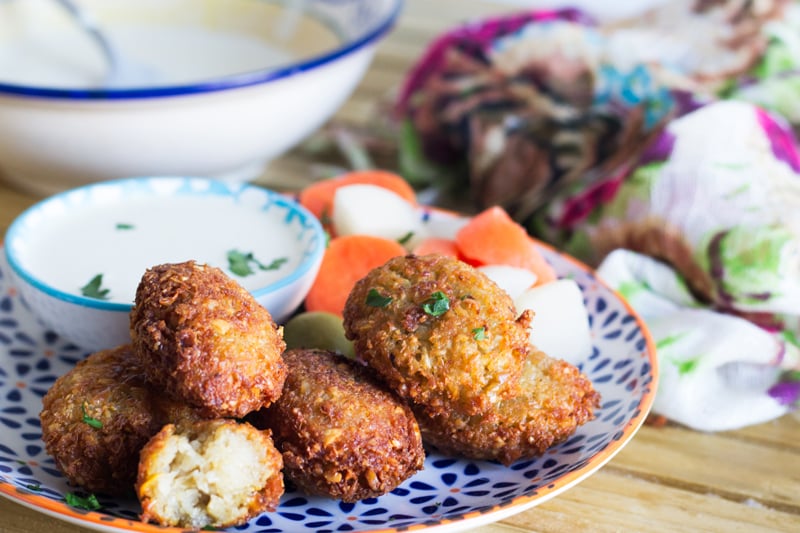 With the vegan boom, falafel have become more popular than ever, but they don't always capture the true taste and texture of the Lebanese staple. Different cuisines all have their own ways with falafel, but the key to a good Lebanese one is broad beans. Also known as fava beans, they are what gives the Lebanese falafel its signature taste and texture.
The pre-packaged variety are often too soft, with non-of the requisite crunch, and usually made with only chickpeas. Eating out does not always yield results either; unless you have a good Lebanese restaurant or take-out nearby.
The falafel mixture to be dropped in hot oil is made from raw, not cooked, broad beans and chickpeas. This is what gives both texture and flavour. The oil should be hot enough to sizzle, but not so hot to brown the outside without cooking the inside. There is a tool known known as a falafel press, which results in the classic thin dome shape that cooks to perfection. We are using two spoons to form a 'quenelle' as not everyone has a press. It is also easier to work with; just make sure that your falafel are not too thick to cook well.
We serve Lebanese pickles on the side, a variety of carrot, turnip and cucumber. Feel free to use olives, and maybe a gherkin or two. Sliced tomato, cucumber, and onion also go down particularly well.
You will need to soak the beans overnight, so preparation is key here. Once that is done, the recipe is neither difficult or time consuming.
Recipe for Lebanese falafel with tahina dip
100g dried chickpeas
300g dried broad beans (or butter beans if not available)
1 tsp bicarbonate of soda
2 onions
1 tsp salt
2 tbsp flour
1 tbsp ground coriander
2 tsp ground cumin
Vegetable oil for frying
For the sauce
2 tbsp tahina
1 clove garlic, crushed
½ tsp salt
Juice of 1 lemon
Warm water
Soak the chickpeas and beans overnight with the bicarbonate and 3 times the amount of water.
Once ready, drain and dry.
In a processor, blitz until it looks like fine breadcrumbs.
Tip into a mixing bowl.
In the processor again, blitz the onions, salt, spices and flour to a paste.
Add to the mixing bowl and combine.
You should now have a mixture that sticks together when squeezed. If it doesn't, then add more flour until it does. Do not overdo the flour though.
Heat an inch or so of oil in a frying pan or wok.
Using two dessert spoons, scoop up a spoonful of mixture in one. Using the other spoon, press it into a shape like a flattened egg. Keep transferring it from spoon to spoon, pressing it into shape as you go. Once you have a compact shape, drop it into the hot oil.
Fry the falafel about 3 or 4 at a time, depending on the size of your pan. Too many and the heat will be too low. Too few, and they will brown too quickly.
Fry for about 3 minutes, until they have a crisp brown coat and the interior is cooked.
Drain on kitchen roll.
To make the sauce, mix the tahina paste with the salt, garlic and lemon. At this stage it will thicken and clag together. Gradually mix in warm water until you have a sauce the thickness of single cream. It should be garlicky, and sharp with lemon. Tasted on its own, it can be an acquired taste. Paired with the falafel, it is perfection itself.
Enjoyed reading this?
Sign up for our emails below, so we can send you blogs on gardening tips, as well as updates on our sales, so you don't miss out on those garden furniture bargains!