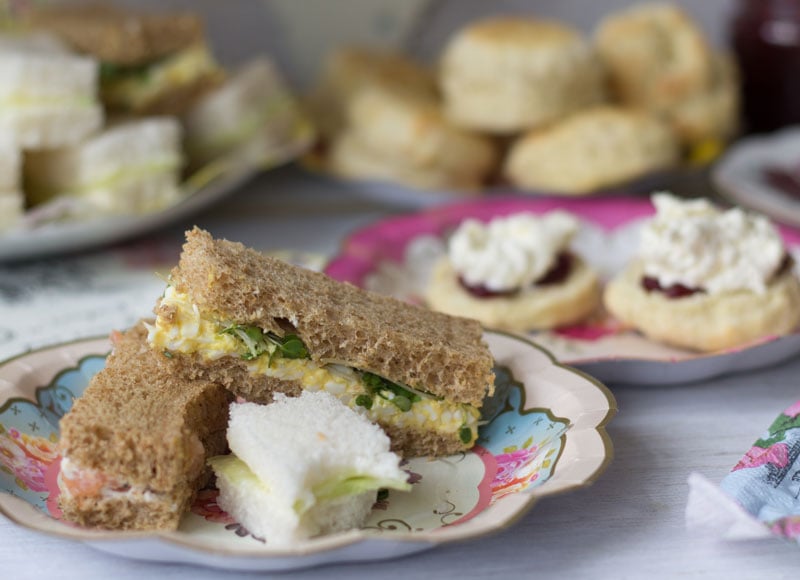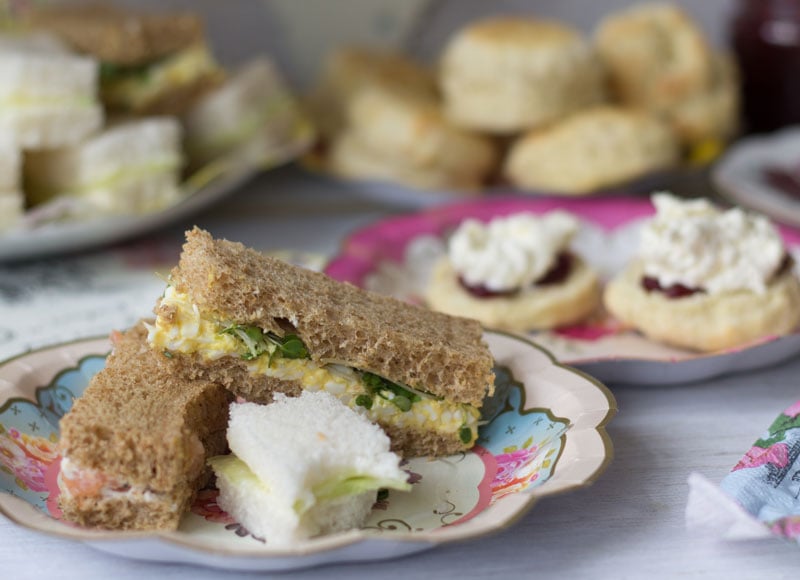 In these days of excess, there is something beautifully simplistic about the classic British afternoon tea. Tempting as it may be to 'lay on a full spread' and cram the table with all sorts of unBritish extras, this is how we used to enjoy food before we got fat. Consisting largely of carbs and dairy, afternoon tea is nonetheless an exercise in restraint. Quality over quantity. A little smackerel, if you will. A few well appointed crustless sandwiches, followed by a pastry or scone and a proper cup of tea.
Afternoon tea sandwiches
There are various types of afternoon tea, designed to fill up the space between lunch and a late dinner, in which the savoury component takes many forms. With the longer days and brighter sky, we have gone for the quintessential 'tea on the lawn'. And that means cucumber sandwiches.
Never underestimate the cucumber sandwich. Crisp and refreshing, cucumber is the taste of British summer. Delicate, yet with a distinct flavour, it marries particularly well with butter and soft white bread. Peeled, finely sliced, and seasoned with a splash of vinegar, chilled cucumber is a perfect example of treating simple produce with respect.
Smoked salmon is another classic for a delicate sandwich. It has the annoying habit of pulling out of the bread if kept in slices so we like to tear it into pieces and bind with a touch of cream cheese. The emphasis should be on the salmon not the cream cheese. A touch of freshly ground black pepper and a squeeze of lemon is the only seasoning you need. Brown bread please.
Then there is egg. Egg mayonnaise. Not too heavy on the mayonnaise and with lots of cress. The egg is very finely chopped, or grated, seasoned with a touch of salt (not pepper) and lightly bound with mayonnaise. The cress is generously piled on top, not mixed in as an afterthought. Brown and white are equally good.
The rounds of sandwiches are piled up, crusts removed, and each cut into three fingers. Not squares, and certainly not triangles.
Afternoon tea cakes
The classic British afternoon tea should really have British classic cake to go with. Although, were you to partake of tea at the Ritz, you would probably find the more decadent French patisserie on offer. With us for so long, the cream horn or eclair is as much a part of afternoon tea as our plainer British offerings. We toyed between Victoria Sponge and mini scones, eventually deciding on the scone as easier to pull together from scratch. Find out how to make scones in our separate recipe. Whipped cream and jam are a must, but if you have clotted cream and homemade strawberry jam then all the better.
A word on presentation
Afternoon tea seems best on fine dainty china. A nice collection of pretty mismatched florals is a lovely idea but can take some sourcing. There are some beautiful sets available at the moment, most with a hefty price tag. A worthwhile investment if you will use it, but perhaps not for an impromptu afternoon tea party. If you stick to proper china for the cups (tea tastes better out of china as it holds its heat) and a proper tea pot. Get a plain cake stand that can be adorned with pretty doilies or napkin and look different each time it comes out. There are some lovely disposables to be had online. We got the paperware for both of our afternoon tea videos online, which not only keeps the cost down for a crowd, but also means you could do a different theme each time. The plates may be paper, but will brighten your day even if you steal just 5 minutes for yourself outside with a cuppa and a piece of toast.
Enjoyed reading this?
Sign up for our emails below, so we can send you blogs on gardening tips, as well as updates on our sales, so you don't miss out on those garden furniture bargains!