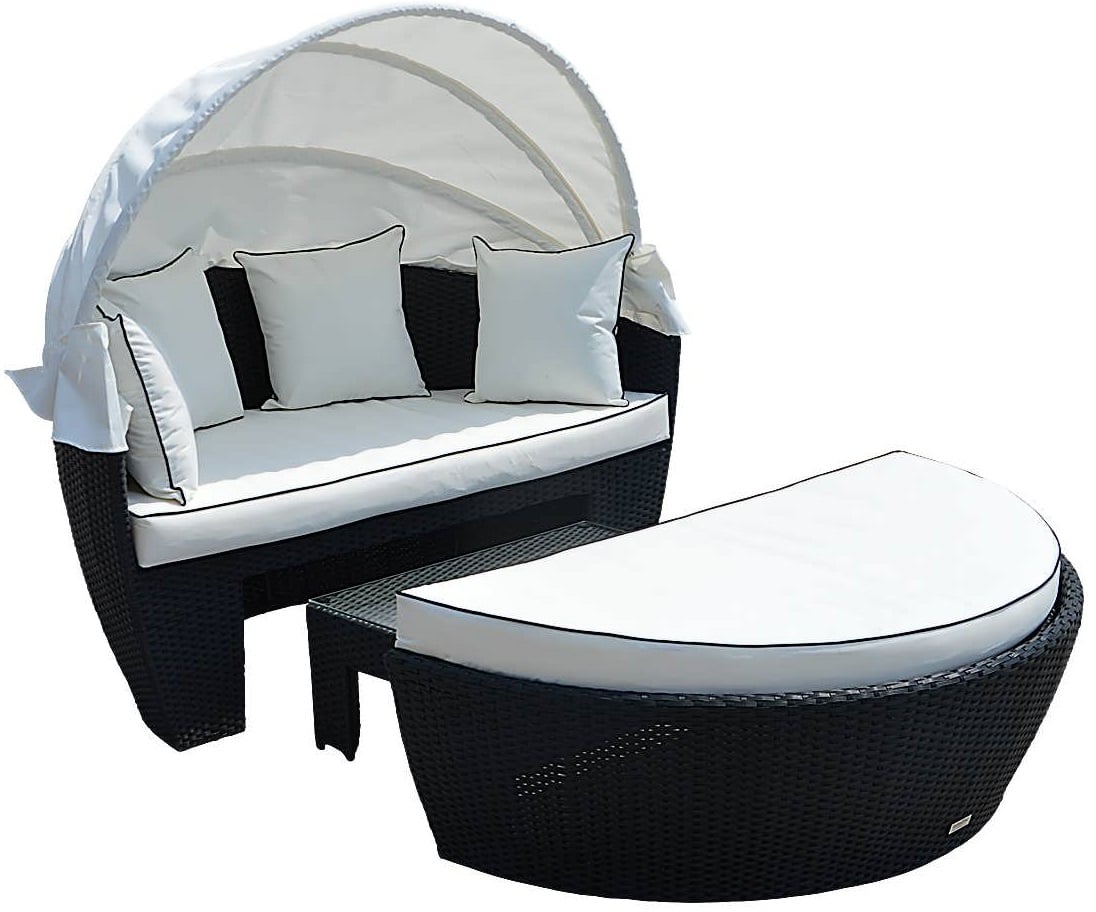 Luxury is whatever takes you out of the everyday. It transports you from the grind of the daily struggle with its noise, discomfort and grime to a more peaceful, relaxed and comfortable place.
Let's think about what luxury can mean in the garden.
Luxury and comfort
These two have to go hand-in-hand. Surely it's not possible to have one without the other?
In the garden, this means above all somewhere pleasant and comfortable to sit or lie. Yes, it's possible to sit on a hard and unyielding surface, just as you can lie on an unsupportive surface but neither of these are pleasant. How much better to choose good furniture with proper cushioning that pampers and cossets you. Luxurious, in fact. A day bed is a fabulous idea for kicking back outside on warm days and sun lovers can't go wrong with a sun lounger and a bottle of sun lotion.
Luxury and hot tubs
Relaxation in warm water isn't just about exotic holidays or long bubble baths with candles. Hot tubs in the garden are becoming more and more popular. And they're used even on cooler days. They come in all shapes and sizes so there's bound to be one to suit your garden.
Switch off your digital devices, go outside into the fresh air and revel in the warmth of the hot tub. You'll unwind, your sleep will improve and your skin will look younger and healthier. Aches and pains will be soothed, and apparently cholesterol and blood pressure can be lowered.
Luxury and sunken seating areas
Sunken seating areas are making a comeback. They've always been a good place for quiet chats and convivial conversations. Nowadays, that really is a luxury when everyone seems to be rushing around, doing things, busy busy. Just that small change in level makes the sunken area look exciting and out of the ordinary. It's private and cosy, made more so by a fire pit. Remember, comfort is key for relaxed conversation and good garden furniture is so much more flexible and comfortable than built-in benches.
Transport yourself from the daily struggle to luxury in your garden.
Enjoyed reading this?
Sign up for our emails below, so we can send you blogs on gardening tips, as well as updates on our sales, so you don't miss out on those garden furniture bargains!